Capella Residenz
Easy accessible to major Expressways such as Federal Highway, Sprint expressway, LDP, Kerinchi Link and NKVE.
Ready captive market with a growing Population of over 2 million
Star Tower @ Pacific Star with 2,000 to 3,000 employees
Surrounded by more than 10 universities / colleges (i.e. University of Malaya, Mahsa University and Stamford College etc)
Confirmed Urban Renewal plan imply to Section 13 PJ; transforming Section 13 into commercial and residential hub with sky-bridge connecting most of the buildings in Section 13.
Medical Centres – UM, Columbia Hospital, Assunta Hospital and Tun Hussien Onn Eyes Specialist.
More than 10 Government and International Schools (ie SRJK (C) Puay Chai, SRJK (C) Damansara, SMK Damansara Utama, Beaconhouse Sri Inai Private Primary & Secondary School etc)
Public transportation conveniences – 4KM to Asia Jaya LRT Station, 2.6KM to Phileo Damansara MRT Station and Free Shuttle services within PJ vicinities.
Lowest selling price per square foot as compared to current new developments in PJ.
Anticipated higher selling price for upcoming new developments at Section 13.
Less competitors – most of the units around PJ are studios and 2-Bedroom.
Good rental return with over 120,000 students' population and Section 13 as gazatted commercial precinct.
Green Zone
Low density – 8 units per floor served by 4 lifts
Semi-D concept
Private facilities
3-tier security
Estimated completion by end 2016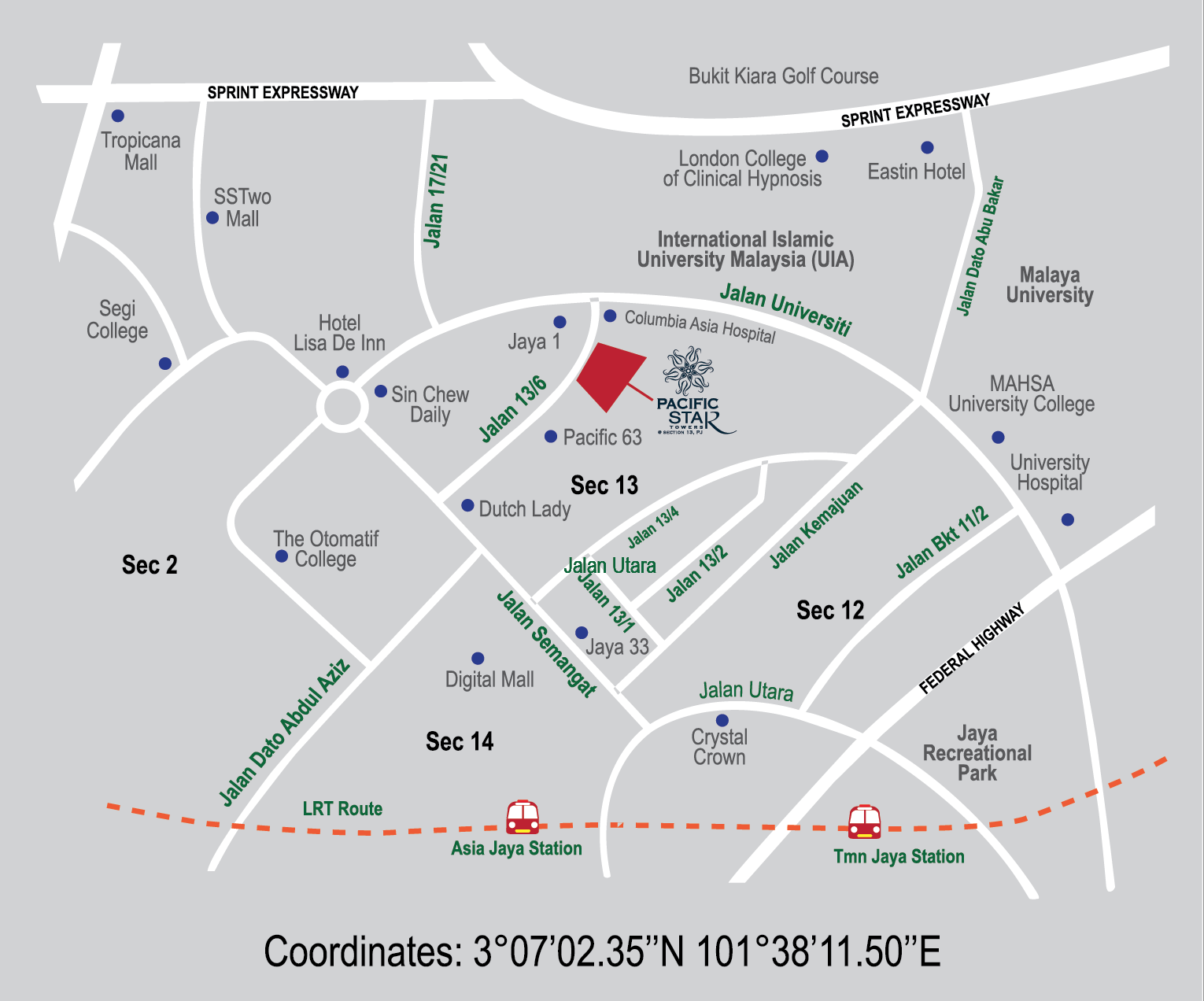 Pacific Star @ Section 13 PJ
WHY PACIFIC STAR?
An elite mixed development project which is located in Section 13, Petaling Jaya, developed by Jaks Island Circle Sdn Bhd. This up and coming green building consists of 4 levels of retail spaces, 2 blocks of office spaces and 3 blocks of service apartments.